Protection barrier - steel
Sturdy protection barriers in contrasting yellow/black finish for optimal visibility. Available in a variety of sizes. Top quality at affordable prices.
Collision protection barrier
Solid protection for your vulnerable racking and machinery
Barrier made from 3 mm hot-dipped galvanised steel Ø  76 mm
Powder coated in RAL 1003 yellow with contrasting black banding
Available in different sizes
Mounting plates 100 x 150 mm for easy installation
Fixed with 8 expansion bolts M12 x 110 (not included)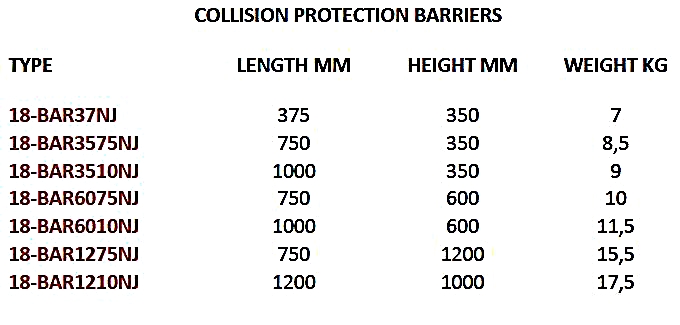 Collision protection barriers form an important part of the safety at the workplace and reduce the risk of physical or material damage.


Protecting pallet racking, separation of pedestrians and traffic on the workfloor and safeguarding expensive machinery or installations from accidental collision damage are just a few examples where our products can contribute to a safer environment.


A collision protection barrier ensures that small collisions do not cause major physical or material damage and don't leave you with a financial cost that far outweighs the modest investment needed to prevent it.


All our collision protection barriers are hot-dipped galvanized after bending and welding, then powder coated in RAL 1003 (signal yellow) and fitted with contrasting black bands to attract attention.


Our protection barriers are fitted with sturdy footplates and are installed using ground anchors M12 (not included). We recommend a minimum lenght of 80 mm; but if your floor permits longer bolts then we would certainly recommend to use 100 or even 120 mm long bolts.


Our full range of collision protection barriers is available from stock.
Code

18-BAR6075NJ

SKU

18-BAR6075NJ

Weight

10000

Colli

1

Size X

750

Size Y

600

Size Z

76