Traffic mirror Universal - Ø 600 mm
Round universal mirror for use inside and outside. Diameter : 600 mm. Framed in a bright red housing. Will improve visibility at corners or at dangerous entry and exit roads.
Traffic mirror 'Universal' Ø600mm
Increases safety at dangerous corners and driveways
Traffic mirror made of strong acrylate that can withstand a pounding.
Universal red back and rim.
Resists sunlight and UV rays.
Suitable for both indoors and outdoors use.
Supplied with a bracket Ø 76mm. This is the standard cross-section of a traffic bollard.
Weight 3.1 kg.
Also available in Ø400mm
A traffic mirror increases safety at entrances or exits where visibility is obstructed.
Traffic Shop offers you a wide range of traffic mirrors and brackets for private and professional use. The installation of one or more traffic mirrors gives drivers a better view of oncoming traffic without endangering themselves or their vehicles.
Keep in mind that the mirrored image is not an accurate representation of the real distance on which the arriving traffic is located. A mirror helps you to spot the approaching danger in time so that you can anticipate appropriately and safely. Caution should always be taken.
We also recommend that you periodically clean your traffic mirror as rain and dust will blur the image over time. A regularly cleaned mirror will contribute to your safety and that of other road users for many years.
In each country there are different regulations for placing signs or traffic mirrors on public roads. If you are considering placing a traffic mirror there, we advise you to first contact the police or your local authority. Naturally, on you own private domain, you decide where and how you place your mirrors best.
Our mirrors can also be used to increase internal safety in or around warehouses, factory buildings or car parks. On our website you will also find fixing posts, brackets and fixed or movable wall mounts for your mirror.
In the box below you will find the maximum observation distance per diameter of the different mirrors available in Traffic-shop. Are you looking for a specific product or would you like additional advice? Do not hesitate to contact us, we are happy to help you.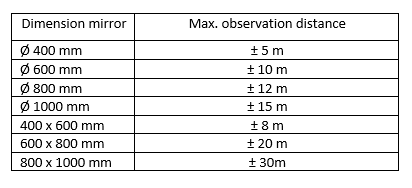 If you think safety is important, our traffic mirrors offer you affordable quality products that increase your safety.
Code

57-1000-U60

SKU

57-1000-U60

Weight

3100

Colli

1

Size X

60

Size Y

60

Size Z

10